Kanomax FMT is the World Leader in Sub 20-nm Particle Measurement. With instruments that measure particles down to 2nm, independent of composition or shape, our capability is out in front of the IRDS roadmap.
Stop by booth 5785 to see these exciting products:
The Scanning Threshold Particle Counter (STPC) is the first commercially-available on-line particle counter capable of detecting particles as small as 7 nm in UPW. The STPC is great for monitoring organics, colloidal silica, filter breakthrough, and other yield killers in UPW that traditional OPC's miss.
The Nano SpotLight System (NSL) extracts and deposits individual particles in UPW > 5nm onto a << 1mm spot for easy SEM analysis. The NSL is great for analyzing, fingerprinting, and troubleshooting UPW systems.
The Liquid Nanoparticle Sizer (LNS) gives actual (not relative) concentrations of colloidal suspensions from 6 to 360 nm. The LNS is a great choice for characterizing and controlling CMP slurries.
Kanomax FMT products can help solve your toughest particle measurement and control challenges – please visit booth 5785 to learn how!

Nano SpotLight System
Great for analyzing, fingerprinting, and troubleshooting UPW systems. * Collects 5 nm and above * Collects anything undissolved (Bacteria, organics, colloidal silica, etc.) * Collects particles in a << 1mm spot * Actionable insight in hours, not weeks… More Info

Scanning Threshold Particle Counter
Great for monitoring organics, colloidal silica, bacteria, and other yield killers in UPW that traditional OPC's miss *50% detection efficiency at 10 nm *Real-time, on-line *Counts particles of any shape, any refractive index, any composition … More Info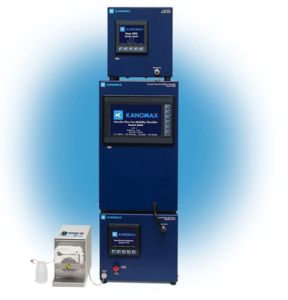 Liquid Nanoparticle Sizer
Great for CMP slurry, bio-pharma, and filter testing * 6 – 360 nm measurement range * Actual concentrations (not relative) * Any particle, any shape, any composition, any distribution (including multimodal) …Less Info